Rings 101: A Complete Guide to Engagement Rings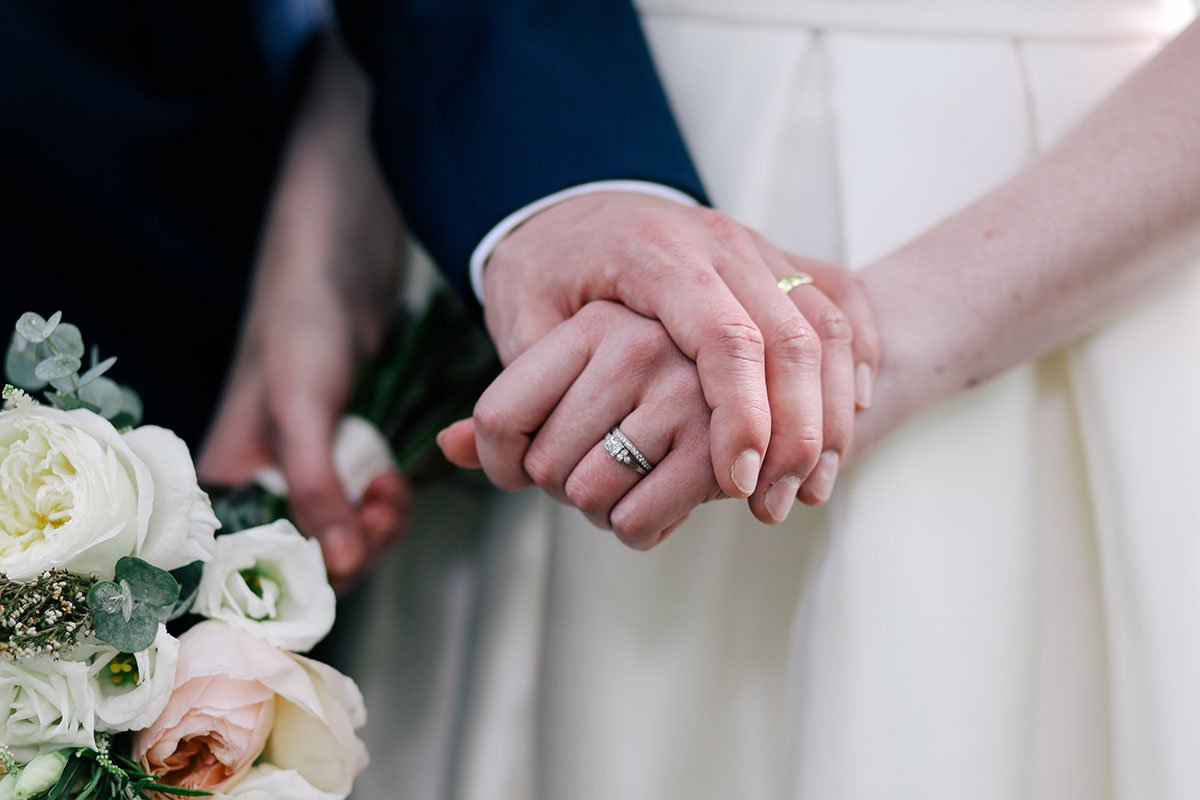 You might be surprised to find out that engagement rings go as far back as Ancient Rome. Then, women received rings made of ivory, flint, bone, copper, or iron to affirm their mutual love and obedience.
In 1477, the Archduke Maximilian of Austria commissioned the first ever diamond ring for his bride, Mary of Burgundy. This ring had long and narrow diamonds mounted in the shape of an "M."
Engagement rings arrived in America in the 1840s but were still relatively uncommon until the turn of the century.
Now, they are so common that it's basically a requirement of proposing!
So now let's look at all the options to help you figure out how to choose the perfect engagement ring.
Colour of Band
The first step in how to choose an engagement ring is to think about what colour you want the engagement ring band to be.
There are three main choices of colours: yellow gold, silver (white gold, platinum or other metal), and rose gold.
Yellow Gold
Yellow gold is a timeless choice. It was the most common option for centuries. In recent years, yellow gold has begun to make a comeback.
Yellow gold is a great choice if you are a bride that wants her ring to coordinate with her everyday jewellery style and personal collections of other accessories.
White Gold
White gold is silver in colour. It looks similar to other metals such as platinum.
You might be wondering if white gold really is gold. The answer is yes. White gold is an alloy of gold mixed with at least one white metal such as silver, nickel, or palladium.
White gold looks good on most skin tones but it's a good idea to compare how your hand looks with yellow vs white gold jewellery.
Rose Gold
Rose gold is a recent addition to the engagement ring scene. Many brides prefer the softness and femininity of rose gold.
Like white gold, rose gold is an alloy. Commonly rose gold contains 75% gold and 25% copper. It's the copper that gives these rings their special pink hue.
Once you have the colour narrowed down, you need to think about engagement ring styles.
Platinum
A great option for people with sensitive skin is platinum. Our PT950 Platinum consists of 95% platinum and 5% palladium. It is non-allergic and another good alternative if you are looking for non-gold.
Note that platinum only comes in one hue. It is similar to white gold but has an added luxurious silver tone.
Once you have the colour narrowed down, you need to think about engagement ring styles.
Engagement Ring Styles
There are hundreds of styles of engagement rings that it would be almost impossible to list them all.
Yet before you buy an engagement ring, you should know the basic styles that are common.
Solitaire
The most classic and traditional engagement ring is the solitaire.
This type of ring has only one stone in the design. For maximum "Wow factor", the single stone is often held in a claw or prong setting.
This type of ring will never go out of style. If you want a timeless beauty, a solitaire is a solid choice.
Cluster
Cluster engagement rings have several small stones set together to like like a larger diamond. These are also known as illusion rings.
This is a good option for couples on a budget because you get maximum sparkle for less.
You can choose between a traditional cluster in a circle or pick an asymmetrical design that is unique and modern.
Halo
The halo ring is a popular choice. This ring has a centre stone surrounded by a border of smaller gems.
This creates a halo effect on the central gem. Choosing a halo setting can make a small diamond look larger.
It can also be used to create contrast. You can opt for a diamond in the centre and coloured gems as the border. Or vice versa.
Three-Stone Style
Three-stone engagement rings are an incredibly romantic choice. The three stones in a trilogy ring are symbolic. They are said to represent the past, present, and future. Other people say the three stones represent you, me and us.
There are many variations of this style. Commonly there is one larger central stone flanked with two smaller stones. Or you can choose three equal-sized gems.
Band-Style Rings
Some couples are moving away from traditional, single stone engagement ring towards a band-style ring.
Some couples prefer to skip the engagement ring and purchase a ring that can serve as both engagement and wedding band.
This is not uncommon in European countries where most people do not wear engagement rings but rather wedding bands.
Also, the current pandemic safety measures are partly informing this ring choice. Band rings are easier to clean and sanitize. These can also endure the constant hand washing and sanitizing of our current daily lives.
Next, you need to choose the stone (or stones) you want in your ring.
Choosing Gemstones
A diamond is a traditional choice in terms of the history of engagement rings. You can choose diamonds if you want to stick to tried, true and timeless.
Some couples prefer to make a statement by selecting other gemstones. Some brides want to have a ring that is nothing like what anyone else is wearing.
The good news is that some gemstones are less costly than diamonds. This means you can opt for a bigger rock for a better price.
You can select a gemstone in round, oval or other geometric shapes according to your taste.
Possible gemstones include sapphires, tourmaline and other coloured precious stones. Another choice you'll need to make is which hand you want to wear your ring on.
Ring on the Right or Left Hand?
How to wear your wedding ring might depend on where you live.
Wearing rings on the fourth finger of the left hand is common in Western countries. Yet in Europe as well as India and Greece, it is very common to see couples wearing their rings on the right hand.
In some countries, like Brazil, couples will wear their wedding rings before the wedding on one hand. They will then switch to the other hand after saying their vows.
Which Ring Goes First?
Another common question people ask is which ring to slide on the finger first? Is it the wedding ring first with the engagement ring on top or the other way around?
Actually, there is no hard and fast rule. It's all a matter of preference. Many people prefer to wear the engagement ring on top (or second).
To do this, remove your engagement ring before the ring ceremony. Then after the band is on your finger, put your engagement ring back on.
It's a popular option to wear the engagement ring first followed by the band. This makes logical sense because you get the engagement ring first, then the wedding band.
People who choose this method also like the symbolism of this method. Your engagement ring represents a promise. The wedding ring crystallized that promise.
So, if you like the linear timeline of first, you're engaged, now it's official, you may want to use this method. The good thing about this method is you can stack your hand with anniversary rings down the line and still maintain the order!
Engagement Ring for Men
The majority of men choose to only wear a wedding band. But some men want an engagement ring to show that they are in a committed relationship.
If you plan to propose to a man, then you may want to have a ring ready.
Engagement rings for men are distinct in style from women's rings. The good news is there are so many options.
You can opt for a simple band with or without gemstones. Or choose an intricate band with bevelled edges and gems.
There are also a variety of colours you can choose. By picking a ring made from a mix of metals you can have an inlay colour that is different from the outside colour.
Active men might opt for an alternative metal ring.
More than anything else, personal preference is the most important factor when it comes to choosing an engagement or wedding ring for men.
Some men will wear only one ring but choose to don it upon engagement. Others may prefer to have an engagement ring and also have a wedding band. In this scenario, simply move your engagement ring to another finger or opposite hand once you have your wedding band.
Matching Rings
Some couples also try to choose the man's rings that complement the fiance's ring. You might choose the same metal, stone or style.
Of course, all of this comes down to preference. There is no rule that your ring needs to match your partner's.
You Are Ready to Buy an Engagement Ring
Thanks for reading. We hope this guide has helped you feel more confident as you get ready to buy an engagement ring.
Deciding on an engagement and wedding rings is a wonderful opportunity to create a symbol of love that will last a lifetime.
At Tailored Jewel, we are a team of multi award-winning jewellery craftsmen. Visit our website to find out why couples are choosing us for their custom wedding rings.