15 Reasons It's Better to Buy Engagement & Weddings Rings Online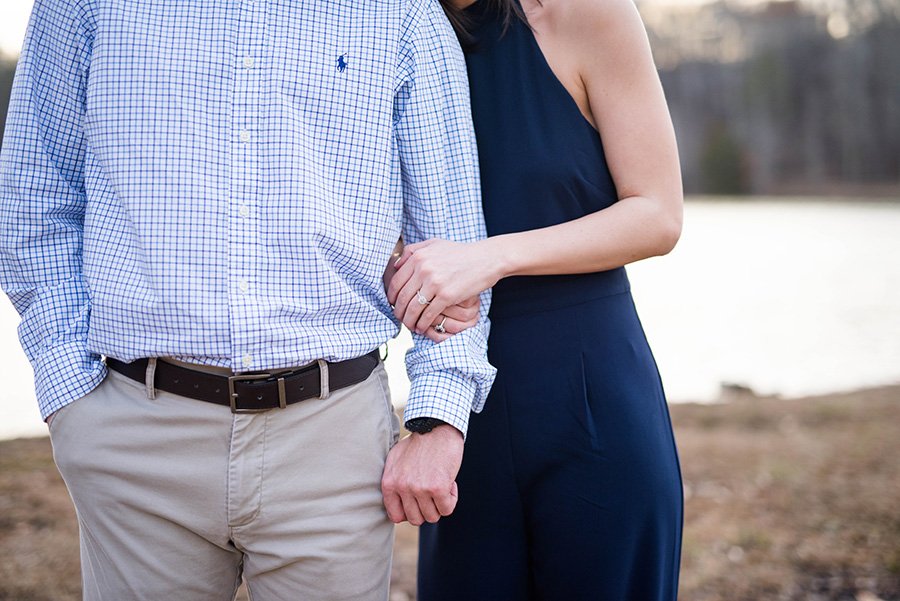 Every year, more than 26 million marriages take place around the world. Whether big or small, these signal an exciting moment in the lives of everyone involved in them.
However, before you get married, someone has to propose! Traditionally, the Ancient Romans would buy an engagement ring to propose and there is a reason why this practice has stuck around. An engagement ring is a wonderful symbol of the commitment you want to make to your partner.
So choosing the right engagement ring is extremely important. It is now becoming increasingly popular to buy an engagement ring online rather than in person. So why is this?
Read on to find out fifteen reasons why it makes sense to buy a wedding ring online.
1. You Have More Freedom to Shop
Buying an engagement ring is exciting but it can also be an overwhelming experience. Most people do research before visiting a jeweller but when you arrive you can still feel spoilt for choice.
If you aren't sure what you're looking for yet and don't know where to start, deciding to buy a wedding ring online in Malaysia allows you more freedom. You can browse at your own pace and bookmark any designs that you really like.
That way you won't make a rushed decision and come away with a diamond ring that you aren't sure about!
2. You Can Ensure You Get Good Value for Your Money
The average price of an engagement ring in America is $3,756. However, this depends a lot on the kind of budget you are working with. If you are working on a tight budget then it can help to buy a wedding ring online in Malaysia.
Shopping online means that you can compare ring prices much more quickly than shopping in person. You can even set budget limits online so you don't waste time looking at rings that are out of your price range.
This ensures that you don't overspend when searching for the perfect engagement ring.
3. Online Shopping Lets You Check a Jeweler's Credentials
Before you buy a wedding ring online or in person, it is important to check the jeweller's credentials.
These can include claims about the materials they use and where these are sourced as well as any certifications they have. Checking that these are legitimate ensures that you buy a high-quality ring.
Once you are in a shop, it can be difficult to look these up without it becoming awkward. In comparison, when you're shopping online you can simply Google the relevant information before you buy anything.
4. You Can Compare Different Ring Styles
There are loads of difficult styles of engagement ring to look at including:
Cluster rings
Halo rings
Solitaire rings
Three-stone style rings
Band-style rings
On top of this, you also need to think about the type of gemstones you want to have in a ring and the material of the band.
Comparing all of these factors in person can be overwhelming. When shopping online it is easy to compare different styles in different tabs to figure out exactly what you want.
5. You Can Get More Opinions When Shopping Online
Before buying a ring, you might also want to get help and advice from your loved one's friends and family. This is much easier when you are shopping online.
You can simply send them links to different ring styles. This also means that you don't have to wait around in a shop to hear back from them. So you can wait for everyone's feedback before buying a ring.
6. Buying Online Gives You More Flexibility to Shop
If you do decide to buy an engagement ring online in Malaysia or elsewhere, this gives you much more flexibility. You can shop online and buy your ring at a time that works for you.
This also makes it easier to keep your engagement ring shopping secret from your partner, especially if you live with them. There's no risk of you being spotted in a local jeweller's or them leaving you a voicemail on your home phone if you keep everything online.
7. Shopping Online Keeps You Safe
At the moment, shopping online is also much safer than going to the shops in person.
Since the COVID 19 pandemic broke out, governments around the world have recommended staying at home as much as possible. This minimizes your chance of spreading or catching the virus.
Thankfully, shopping for an engagement ring online lets you find exactly what you need without putting your health at risk.
8. Home Delivery Ensures the Ring Reaches You Safely
Speaking of safety, buying online also means that you don't have to carry the engagement ring and your credit card around with you after purchase. This minimizes the risk of you losing the ring or being targeted by thieves.
Instead, the ring you choose will be delivered to your door at a time that works for you. Most online jewellers also provide tracked delivery so you can keep an eye on your valuables.
9. You Can Still Get Support from Jewelry Staff
Shopping online doesn't mean that you have to miss out on support for jewellers. Most online jewellers will be happy to speak to you over the phone or using a chatbot to help you find exactly what you need.
10. Buying Guides Can Help You Find the Perfect Ring
As well as providing personal support, a lot of jewellers provide detailed buying guides online.
These talk you through everything from ring sizes to materials to different ring styles. When shopping online these are only a click away so they're more accessible than ever!
11. You Can Still Make Customisations
If you have specific ideas for a ring, you can also contact online jewellers about customisations. These may cost you a little more but they are simple enough to do without visiting a store in person.
You may want to gather some reference photos and ideas before contacting an online jeweller about customisation. Then they will talk you through your options to help you create the perfect ring!
12. Shopping from Home Makes Sizing a Ring Easier
The last thing you want is for your finance to put on a ring that is too big or small. This is why getting the sizing right is important and it is difficult to do this secretly.
If you are at home, you can easily check your partner's ring size by measuring the diameter of another ring (if they have one.) You can also double-check this against different website's measurements to make sure it's accurate.
13. Online Shopping Saves You Time
You don't want to rush to find the perfect ring for your partner. Fortunately, online shopping saves you time practically so that you can focus on important decision-making.
For example, let's say that you find a ring you like but you want some time to think it over. In-person, you would have to leave the shop and go all the way back if you do decide on a ring. Whereas shopping online is much simpler – you just need to click back to the website.
Online shopping also removes geographical obstacles that could prove time-consuming. So rather than settling for what is on your doorstep, the world really is your oyster!
14.  Buying a Ring Online Makes Getting Repairs Easier
When you buy an engagement ring you are obviously thinking about the future. However, it's also worth thinking about the future of the ring itself as well! After all, an engagement ring should last a lifetime.
A lot of online retailers offer repair services and guarantees for their jewellery like other jewellers do. Because they serve people all around the world though, this can make it easier to send a ring in for a repair. In comparison, local jewellers often require you to bring a ring in for repair, which can be an issue if you relocate.
With online shopping, no matter where you are living, you won't have an issue making the most of your ring's guarantee.
15. Return Policies Also Cover Fine Jewellery
Online jewellers are used to communicating with customers all over the world. This means that they are helpful when it comes to resolving customers' issues and this includes dealing with returns requests.
In fact, selling online means that they often have to have more flexible returns policies. So if you aren't pleased with the jewellery when you see it or change your mind, you can easily return it.
When it comes to buying a high-ticket item like an engagement ring, it's great to have this flexibility on offer!
Buy an Engagement Ring Online Today!
As you can see, if you want to buy an engagement ring online this can make the whole process easier. Not only does it let you make a more informed choice about the style of ring you want, but it also helps to find the best deal possible. So what are you waiting for?
To find the perfect ring for your partner, head over to our buying guide now. We're here to help!